TDG's Triple Play: Miami Marlins!
Your senior dynasty analysts enter the second season of the Triple Play! The regular feature breaks down an arm, a bat, and a prospect within each organization for your reading pleasure!
Listen to Adam (@TheStatCastEra), Keaton (@TheSpokenKeats), and Patrick (@TheGreenMagnus) on the Dynasty's Child podcast and read their other analysis here at the site!
---
Caleb Smith, 27, SP
Analysis by: Adam Lawler
Introduction
I have been really into The Smiths over the last few months. Say what you want about Morrissey, the band is still good.
Does anyone remember Mike King? The most valuable thing Mike King did for any club was to be used as a trade chip when the Marlins shipped him and international pool money to the Yankees in exchange for Caleb Smith and Garrett Cooper. While King has yet to sniff the majors, though, he's been very good as he works the stations through the Yankees.
This Charming Man (2018 in review)
Meanwhile, Caleb Smith – the man we're focusing on for this article – has been quite good! The 27-year-old former first round pick started his breakout last year before season-ending surgery when his lat muscle tore off his frickin' shoulder. Prior to that gross thing happening, Smith held a respectable 4.19 ERA with a very intriguing 10 K/9 over 16 starts for a bad Marlins team. The sub-5 IP per start is not what you want, but it's to be somewhat expected in a first season as a starter. The velocity bands between his fastball (93) and slider (85) were good enough to get batters missing or keep the contact weak when he was ahead in the count.
Here's Smith shooing Michael Conforto back to the bench on high heat: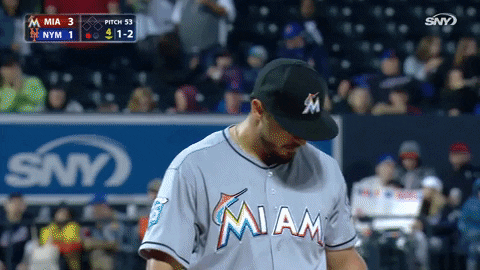 Here's Smith getting Anthony Rizzo to dribble the ball on a slider: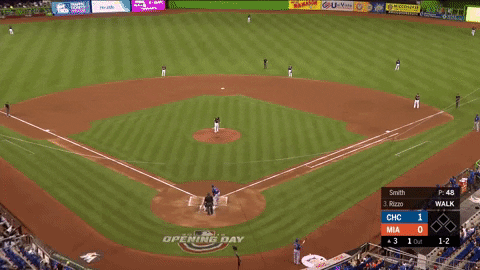 There Is A Light That Never Goes Out (2019 season)
Still, the love for Smith was held within a small contingency of fantasy players. In NFC, Caleb Smith was drafted as the 165th best pitcher available. Jesse Roche, our resident ranker, has him as the 188th best starting pitcher. Yet hope springs eternal.
The bugaboo with Smith was the lack of control. Among starters with 70+ IP, Smith ranked within the top 25, sporting a healthy 3.84 BB/9. Here's Ian Desmond, a man with a 24.6% K rate – which was one of the 35 worst in the league, spitting on a changeup.
Here's Smith losing control of his fastball on a 2-0 count against Amed Rosario, a man with a 20.1% k rate and who struck out 2 times prior to this at-bat:
Noted within these gifs is the fact that Smith Ks! And strikeouts are good! We like them! Could Smith get it together? Well, when the control on your fastball is this bad, and there are dozens of these instances on BaseballSavant, there are reasons for skepticism.
Growth is not linear. We know this to be true. Look at Lucas Giolito or Lance Lynn or Jake Odorizzi in comparison:
| | | | |
| --- | --- | --- | --- |
| NAME | 2018 BB/9 | 2019 BB/9 | Improvement |
| Jake Odorizzi | 3.83 | 2.83 | -1 |
| Caleb Smith | 3.84 | 2.73 | -1.11 |
| Lucas Giolito | 4.67 | 2.89 | -1.78 |
| Lance Lynn | 4.52 | 2.51 | -2.01 |
It's no small coincidence and it's not a novel concept that improvements walk rates lead to improvements in overall performance. However, it's important to note just how dramatic the strength of their performance rides on the back of control.
How Soon Is Now? (Dynasty value)
I'm intrigued to see what happens with Smith's fastball velocity when he returns from the hip injury next week. Was the decrease in velo tied to injury or was it a purposeful approach to getting a handle on the location of his primary offering? If he increases the speed again will he regress?
I believe we're seeing a young pitcher unlock his potential in a meaningful way. However, his room for improvement has been hard earned, and any regression could be disastrous for an already razor-thin margin of error.
With regards to dynasty value, consider Caleb Smith discount Robbie Ray. Lots of punchouts to pair with the free passes. In Smith's favor, however, is a more friendly team park*. Is he the top 60 MLB pitcher our TDGx2 Fantrax league ranks him to be? I think so. There are dozens of players who can give you a decent ERA/WHIP ever year, but there are few who will consistently boast a double-digit strikeout rate as Smith can. Mark me down as a believer in him being an SP3 moving ahead.
---
Brian Anderson, Age: 26, 3B
Analysis by: Keaton O. DeRocher
The F*ck Are The Marlins Doing?
There are not many interesting options here on the roster, which is not a surprise at all to anyone who has been paying attention to baseball over the past couple seasons. Instead of having an outfield full of Stanton, Yelich, and Ozuna the Marlins are running out Curtis Granderson, Harold Ramirez, and Garrett Cooper. After much digging, however, I landed on last year's mini break out man Brian Anderson. After a dive into Anderson's numbers, I actually have to admit that I was a bit intrigued. There's a very real chance Anderson is the only fantasy relevant name on the roster. We actually got this as a listener question on the last Dyansty's Child and Jake, Shelly and I were each a bit hard-pressed to find one- even we overlooked Anderson in our struggles. So, let's dive in.
Popping Up On The Scene
Last season Anderson worked his way onto the waiver wire adds by way of .288/.363/.429 first half slash line. He added 8 dingers and an impressive 23 doubles to boot. Helped by barrelling just under league average, and paired with a 90 MPH exit velocity, Anderson held a modest hard-hit rate of 42%. While he didn't set the world on fire it was certainly enough to garner attention in deep leagues and Anderson was scooped in just about every 20+ team out there. Anderson slowed in the second half, slashing a much less exciting, .245/.346/.349 and only adding 3 dingers. All in all, Anderson was an unlikely source of extra-base hits, finishing in the top 15% of the league with a modest slash line and adding some extra value in OBP leagues with his decent walk rate.
Continuing To Be Decent
Anderson has upped the power a tad this season, having launched 7 dingers so far (already just 4 shy of his total from last season). On top of that, his batted ball profile is looking better too. Barreling over league average and increasing his launch angle from 8 degrees to 9 degrees, Anderson currently sits in the top 8% of the league in hard it rate at 49.5%. The slash line, however, isn't as pretty (.246/.333/.377). Based on his batted ball profile, his xBA looks a bit a better and closer to his final slash of last year, so that may be due to some BABIP luck but he's been serviceable in the counting stats.
What To Do
Essentially we're back to where we were last year. If you're in a deep league, go for it. Otherwise, there's not much really going on here and you can do as the All-American Rejects told you to and Move Along.
---
Isan Diaz, 23, 2B
Analysis by: Patrick Magnus
Introduction
Part of the package that shipped out Christian Yelich, Isan Diaz looks to be the future at the keystone for the Florida Marlins. The Marlins are the third team for the 23-year-old, as he was originally drafted in the 2nd round in 2014 by the Arizona Diamondbacks. He was then shipped over to the Brewers in 2016 and then landed with the Marlins in a questionable deal in 2018. The dude has gotten around, but he's playing well and there must be something said for him being an asset that teams are eager to take on. Let's dig a bit deeper and see what we can expect from the second base prospect.
2018 in Review – Double-A Was Good, But Triple-A Was Not
Diaz started 2018 in a very bad no good slump, and then to make matters worse he was struck in the head by a baseball. The result was a short stay on the disabled list, and a concussion. He rebounded rather nicely in Double-A by displaying many of the skills that have become Diaz's calling cards. Throughout the minors, he has been a Three True Outcomes player- displaying pop and strong walk rates, but struggling to make consistent contact. In July of 2018, the Marlins promoted Isan to Triple-A.
| | | | | | |
| --- | --- | --- | --- | --- | --- |
| Year | Level | AB | HR | SB | BB | K |
| 2018 | AA | 356 | 10 | 10 | 14.9% | 26.7% |
| 2019 | AAA | 155 | 3 | 4 | 9.7% | 29% |
Triple-A presented a challenge for Diaz, as his walk rate fell to 9.7% (down from steady double digits), his K rate increased, and he failed to make as much contact overall. The dude hit a bit of a wall, but it was only 155 at-bats. Lucky for us Diaz has collected a few more at-bats now.
More At-Bats and a Different Path to Success (2019 season expectations)
2019 has been a different story for the Marlins' budding middle infielder. Thus far Diaz is slashing .283/.366/.522 and has already eclipsed his 13 homers in 2018 (14 so far). The stolen bases have all but faded away for the infielder, as he's only attempted 3 stolen bases and he's been caught twice. Still, what's impressive about Diaz's success at Triple-A is the amount of contact he's making. The dude has the lowest strikeout rate, highest ISO, and highest average since way back in 2015 when he was in Rookie Ball. He's most certainly ready for the Majors at this point but is currently blocked by Starlin Castro.
Dynasty Value
A healthy dose of skepticism should accompany our excitement with Diaz. Right now he's playing in the PCL, a league notorious for its offense-friendly environments, and using the bouncy ball that is the Major League ball only clouds things further. Combining that with the fact that this current version of Diaz isn't one we've seen before and that we have a limited sample size of his new approach, makes me less certain about betting on his current performance.
Finally on top of all that is the ballpark that will welcome Diaz when he does get the call. Marlins Ballpark is not a fun place to hit home runs, and really the only person who has been successful at hitting them there was one Giancarlo Stanton back when he was called Mike Stanton. The amount of murkiness that surrounds Diaz's current performance has me considering him a sell in dynasty. His 2019 numbers and proximity to the Majors should make him a viable piece to move in a deal to acquire a more lucrative asset.
---
PREVIOUSLY COVERED TEAMS
| | | |
| --- | --- | --- |
| NL WEST | NL CENTRAL | NL EAST |
| ARI | CHC | ATL |
| COL | CIN | MIA |
| LAD | MIL | NYM |
| SDP | PIT | PHI |
| SFG | STL | WAS |