TDG'S TRIPLE PLAY: PHILADELPHIA PHILLIES!
The Triple Play is back for a third season! This regular feature is broken down by staff writers Bob Osgood and Paul Monte and a rotating panel of third writers. If you're new to the Triple Play, this series breaks down an arm, a bat, and a prospect within each organization for your reading pleasure! Follow Bob (@BobOsgood15), Paul (@3cardmonte13) and Trevor Foster (@TrevFost) on twitter and read their analysis here at the site!
Pitcher: Vince Velasquez, Age: 28, Position: SP
Analysis by: Paul Monte    
Thank You Sir May I Have Another
Some weeks you look at what your assignment is and it's easy. You immediately pick the player you are going to writeup and the words just start flowing. This was not one of those weeks. Drawing the Phillies rotation did not spur the old creative juices. It's not that it is a bad rotation, it has a young ace in Aaron Nola, a solid number two who just signed as a free agent and a former Cy Young winner in Jake Arrieta. They all seemed boring to deep dive into. Why not choose a guy who has burned me so many times, yet I'll be right back on him this season. Vince Velasquez, it is!
It's the strikeout rate. Look at his stats on your favorite site and it's all you can find that you like. He has a career K/9 of 9.8. Fantasy baseball has a way of pushing guys like Velasquez up the rankings and makes suckers out of fantasy managers. His other stats like his WHIP will hurt. His xFIP has been fairly consistent in the low 4's. His statcast metrics won't impress you either. Good fastball spin and velocity, a slightly above average K%, and a whole bunch of below-average scores after that. His hard-hit percentage was among the worst in the league and his Exit velocity and Barrel % were 6th and 7th percentile respectively.
Vince You Been Gone
So why even bother giving him yet another chance in 2020? The rumor of a new pitch. During the quarantine period, he was able to use Facetime to learn a cutter from his pitching coach, Bryan Price. Even more important, he seemed to earn the trust of his new manager, Joe Girardi. He has bounced in and out of the rotation for what seems like his whole career and he was in another battle this spring/summer. He won a rotation spot and pitched in the team's third game of the season. It did not go well for Velasquez as he lasted just 3 innings, gave up 3 hits, 2 walks, and 4 runs to the Miami Marlins. He did strike out 4 in those 3 innings. It will be interesting to see how long of a leash Girardi has for him this season. The Phillies have missed some games due to the Covid outbreak of their last opponent so the rotation will likely be jumbled to get Nola the ball again when they return to play.
Conclusion
Opportunity and cost are two of the most important things in dynasty baseball. We talked about the opportunity he has; his cost is almost nothing. He is likely on the waiver wire in most leagues unless you are in a deeper head to head points league. I like taking chances on guys who have shown the ability to be valuable in short stretches when they have made an adjustment to their game. The damage will be more extensive in a short season like 2020 if he continues to struggle. Then again, if he does, just cut him and let the next sucker take a chance on him.
---
Hitter: J.T. Realmuto, Age: 29, Position: C
Analysis by: Bob Osgood  
J.T. Reliable
The drop off at the top of the catcher position in fantasy baseball is not only substantial, but the names are incredibly variable from year to year. Former Marlin and current Phillies catcher J.T. Realmuto has provided quality as well as quantity for each of his five seasons in the MLB. Focusing on quantity first, Realmuto's games played in his five full years in the league: 126, 137, 141, 125, 145. Starting 130 games at catcher along in 2019, you simply don't see that number of games played from the physically demanding position. The 29-year-old Realmuto has escaped major injury throughout his career, and the option of spelling him at first base has contributed as well (26 appearances/18 starts from 2017-2019). If the universal DH stays in the NL, even better, for an additional spot he can slide into on "off days" behind the plate. With the replacement value of waiver wire catchers likely being in the negative in one-catcher leagues, and certainly are in two-catcher leagues, the argument can be made that Realmuto is somehow underrated in fantasy circles.
Catcher: The Tight End of Baseball
In terms of quality, I mentioned in the Milwaukee Triple Play that only eight catchers in 2019 contributed $2+ in two categories, and only three of those catchers valued $2+ in three categories. Realmuto did so in ALL FIVE. Contributing eight or more steals in four of his five seasons is the icing on the cake for what is an already sterling profile. When it comes to scarcity in fantasy baseball, many players chase saves in the early rounds, and in this crazy season, we saw them get pushed up higher than ever due to the uncertainty in numerous bullpens. Personally, I'm more likely to attack the scarcity at the Catcher position with J.T. Realmuto. With an average draft position of 46 for 2020 redrafts, you could make the case that Realmuto could've gone as early as 25-30 in the second round, especially in two-catcher leagues.
Year after year, I see the debate of who the number one catcher is between Realmuto and the 27-year-old Gary Sanchez, both in dynasty and redraft. While Sanchez's upside is undeniable, I'm not able to point to any Realmuto seasons with a .186 batting average, or an 89 game season. Since the start of the 2018 season, including the first six appearances in 2020, Sanchez has slashed .208 / .301 / .461 with a 101 wRC+ and a 27.3 K% over 201 games. The average of 26 HR per season in that stretch is enticing, but not worth killing your batting average. In that same stretch, Realmuto has slashed .274 / .332 / .487 with a wRC+ of 116 and a 20.3 K%, along with an average of 23 HR per season over 273 games.
Real Moolah
It will be interesting to see where Realmuto lands in free agency this winter, with the Phillies aware and reportedly willing to make him close to the highest-paid catcher in history. Throwing out 43 of the 92 runners that attempted to steal last year, Realmuto led all of baseball with a 46.7% Caught Stealing rate. For that reason, I think the risk is low for the time being that Realmuto moves off the catcher position as he enters his thirties. Philadelphia or not, continue to buy Realmuto each and every year and get five-category contribution at the most scarce position until he proves otherwise.
---
Prospect: Francisco Morales, Age: 20, Position: SP, Level: Single-A
Analysis by: Trevor Foster
Francisco! That's Fun to Say!
Back in the offseason when I originally signed up to write about a Phillies prospect, I had two assumptions. One: that by the release of this Triple Play that neither Alec Bohm nor Spencer Howard would qualify as prospects. Two: that we would have had half a season worth of games to get more of a look at guys like Erik Miller, Jamari Baylor, and Starlyn Castillo. As my mother always said, never assume. With Bohm and Howard hopefully graduating soon and without the longer looks at Miller, Baylor, and Castillo, I pivoted to another intriguing name in the Phillies system, pitcher Francisco Morales. Mostly because of how fun it is to say.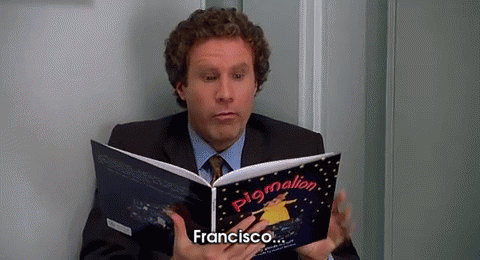 Save me (San) Francisco
"I've been high, I've been low. I've been yes, and I've been oh, hell no." How ironic that a song with Morales' namesake also describes his game.
At 6'4" and 185 pounds Morales is an imposing figure on the mound who relies on his electric stuff to get outs. He features two plus pitches; a fastball that sits in the upper 90s with life and a devastating slider. However, much like many other young fireballers, Morales struggles with his command.
A 2016 J2 signee, Morales was considered the top pitcher from Venezuela, as well as one of the top pitchers overall in the class. The Phillies immediately challenged him by sending him to the United States in 2017 where he finished as one of the top strikeout pitchers in the Gulf Coast League. His reward for that performance was a promotion to the New York Penn League in 2018 where he struggled with his command and consistency. Despite that, the Phillies pushed Morales to full-season ball in Lakewood for 2019 and began to stretch him out. Alternating between starts and relief appearances, Morales tossed 96.2 innings which marked a 40.1 inning increase over 2018. He started slowly in the first part of the season, posting a 5.44 ERA in his first 33.1 innings, often struggling with his command. But he turned it on the rest of the year, posting a 3.00 ERA in 63.1 innings while showing improved command. Overall, these two stretches culminated in a 3.82 ERA (3.23 xFIP) and a career-best 19.9% K-BB% (6.3% improvement vs. 2018). Not a bad showing for his first year of full-season ball.
Phil(lie) of the Future
Morales is currently projected to be a middle of the rotation starter in the big leagues and while he needs to improve on his command and changeup to get there, the electrifying stuff provides confidence he can succeed at that level. A potential concern with Morales is if the command and changeup do not improve enough, he could be relegated to the bullpen, but even then, he could turn into a high-end relief option.
The lost year likely pushes Morales MLB debut back to 2023 but it also creates a buying opportunity in dynasty leagues that may not have been there if he was on the mound this summer. Snatch him up now, while you still can.