TDG'S Triple Play: Los Angeles Angels!
Your senior dynasty analysts enter the second season of the Triple Play! The regular feature breaks down an arm, a bat, and a prospect within each organization for your reading pleasure!
Listen to Adam (@TheStatCastEra), Keaton (@TheSpokenKeats), and Patrick (@TheGreenMagnus) on the Dynasty's Child podcast and read their other analysis here at the site!
---
Tyler Skaggs, 27, SP
Analysis by: Adam Lawler
Introduction
Stop me if you heard this before. Last year, Tyler Skaggs had a season beset by injuries but when healthy displayed flashes of brilliance with the occasional clunker. The 27-year-old is now a 6-year veteran, drafted in 2009 supplemental first-round draft by the Arizona Diamondbacks. Take a trip down memory lane and remember some guys, take a look at that draft class. So much promise…which is just a microcosm of Skaggs' career.
After receiving Tommy John surgery in late 2014 and returning July 2016, Skaggs has made five trips to the disabled list with at least two trips to the 60-day version. Not great, Bob.
The Ballad of Buster Skaggs (2018 in review)
Last year, there were reasons for hope. Even though Skaggs threw his usual 125 innings of stunted performance, he was able to push through and increase his strikeout rate, decrease his walk rate, and take another step. What happened?
Now, I'm going to be honest with you, dear reader. Telling the story of Skaggs is almost impossible because everyone season can be considered a small sample size. We never really get a feel of what a full season of Skagg's repertoire would truly feature or how he would make adjustments to adjustments.
Still, small sample size recognition included, 2018's improvements were largely attributed to the usage of increased changeup usage. This was thrown at a 13% clip and the placement tended to be on the bottom right quartile of the plate.
It proved particularly useful against right-handers, generating a 15% whiff rate and a nearly 50% clip for ground balls put in play as exemplified here:
That, my friends, is Good Stuff.
Skaggy-T (2019 season expectations)
Those improvements, coupled with a strong strikeout rate and hope, had me investing in Skaggs in 2019 within certain parameters. First, I did not expect him to be more than a serviceable SP4. Second, I was drafting him for the first half of the season and nothing more. Third, I would not draft any other injury prone pitchers. Last, if my injury reserve positions were already filled, he would be cut. This kind of wild optimism wound up with me somehow being the most negative among the writers at TDG.
On the surface, things aren't looking good for our oft-injured arm. A 4.50 ERA over 54 innings with all the underlying metrics supporting the outcome, and – of course – an injury stint to start the year. Rust was certainly a part of it, as Skaggs' fastball velocity was down a tick but has since regained.  The hope that he would amplify the usage of his changeup has not come to fruition as he's only elected for modest gains. Instead, he's opted to utilize the curveball more frequently. This, in and of itself, isn't a bad thing and can show improved results. It's really all about the fastball- increase and maintain 92 MPH offering or decrease the usage as much as humanly possible in lieu of the change.
Skaggs Island (Dynasty value and closing)
In the end, we have a player who can tantalize with pitches like this:
But more often ends up like this: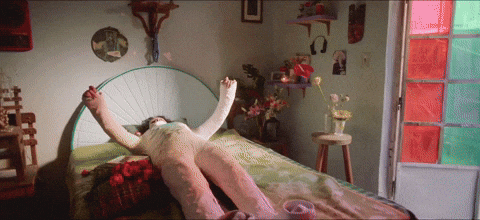 ---
Shohei Ohtani, Age: 24, SP/UTL
Analysis by: Keaton O. DeRocher
Oh Sh*t
Coming into his first season stateside last year, there was no doubt about Ohtani's ability on the mound but there were questions as to whether he could be a legit two-way player in the bigs. All Ohtani did to silence that was slash .285/.361/.564 and launch 22 dingers in 326 at-bats en route to winning AL Rookie of the Year. On the mound, Ohtani was just as impressive, pitching to a 3.31 ERA, 1.16 WHIP, and 63 strikeouts in 51.2 innings pitched. Ohtani truely displayed elite potential on both sides of the ball. However, from the time of his signing by Los Angeles there were concerns about his elbow and he decided to test PRP injections and rehab. It didn't work and Ohtani succumbed to Tommy John at the end of the season.
Oh, Oh, Oh, Ohtani
As far as pitching goes, 2019 is essentially a lost season and at the plate, Ohtani is a bit handicapped. One big difference is that he's not going to be running nearly as much as he did last year while he tries to help his elbow heal. In 2018 Ohtani reached double-digit steals (10) and so far this season he's only attempted one which was unsuccessful. Although he's been off to a rough start this year, his Statcast numbers still look elite. His exit velocity has gone up a tick from 92 MPH to 93 MPH, and he's barreling at an above average rate. The biggest difference so far is in his launch angle. A season ago Ohtani was launching at a solid 12 degrees, but this season he's hitting just about everything into the ground at 2 degrees. It's very plausible this is a side effect of the recovery process as a ten-degree drop is massive. It's hard to gauge just what the effect is but it's a safe assumption as he gets more comfortable and closer to fully recovered this will elevate and he'll be launching the ball in the air like he used to.
Shohei Ho
There's one more roadblock that has yet to resurface for Ohtani this season: what happens when he's ready to rehab his arm. It's doubtful they would send him down just for starts and then recall him for at-bats in between, so what's more likely is he'll be pitching and hitting in the minors. If you were hoping to rely on Ohtani down the stretch run to the fantasy playoffs that looks rather doubtful now. Essentially as far as fantasy goes, 2019 is lost both on the mound and at the plate, but Ohtani returns as an elite two-way stud in 2020 still at a ripe 25 years old to dominate in all formats.
---
Jo Adell, 20, OF
Analysis by: Patrick Magnus
Introduction
Tools, youth, and potential. The ingredients for a high-risk/high-reward prospect. Adell is all about potential, although he did put himself on the map with his 2018 performance. What kind of potential are we talking about with Adell? Try next Juan Soto or Ronald Acuna. So when you're asking who's next to hit the big leagues with the tools to become a superstar; you need not look any further. Adell fits the bill.
2018: One Year, Three Levels
You can look at the scouting grades on Adell and begin to drool, but what do the numbers have to say? Well if you're looking at 2018 they say…Whoa. One might look at his numbers at each level, and not be truly blown away by any of them. However, the story changes when you put everything together and see exactly what kind of production Adell averaged.
The youngster saw three different levels (A, A+, and AA).  The counting stats were certainly there as he bashed 20 homers and stole 15 bases, and the ratios were there as well. Over those three levels, he slashed .290/.355/.543. Now those are numbers to get excited about. He struggled a bit when reaching Double-A, but he was also an average of five years younger than his competition. This is a stud in the making.
What To Expect in 2019
2019 didn't start off quite the way Adell owners would have wanted it to. During Spring Training Adell sprained his right ankle, and strained his left hamstring as he attempted to go from first to third. The result was an assignment back to High-A, and he only recently started seeing game action on May 24th. In the handful of games Adell has played thus far, he's showing why he finished the year in Double-A as he's already slapped two homers.
I expect Adell to go full beast mode this season, and for him to put himself squarely in the conversation for top overall prospect in the game.  Had it not been for the injury in the spring, there may have even been a shot at Adell making the majors this year. Expect more the same from Adell, and look for him to reach Triple-A in 2019. He'll likely see the majors next year.
Current and Future Dynasty Value
MLB Pipeline has Adell listed as their 14th rate prospect. There's no chance he finishes at 14 by the end of this season. Other lists already have him ranked as the second-best prospect in the game, and with Vlad Jr. on his way to being an MLB superstar, it's going to come down to Adell and Wander Franco for that top spot in 2020. Thus if you can act now and get him for something less than that; I'd strongly recommend it. The Angels were aggressive with Adell in 2018, and I expect once he has a bit more playing time under his belt that they'll return to being so. Go get him now before it's too late.
---
Previously Covered Teams
| | | |
| --- | --- | --- |
| NL WEST | NL CENTRAL | NL EAST |
| ARI | CHC | ATL |
| COL | CIN | MIA |
| LAD | MIL | NYM |
| SDP | PIT | PHI |
| SFG | STL | WAS |