Dismissing Concerns about Ohtani
I am here to tell you that, before he has even thrown a pitch in the major leagues, Shohei Ohtani should be considered a top 10 fantasy starting pitcher. In part one, I'll be talking about the concerns that many fantasy analysts have to question his value. Come read further as I attempt to dismiss all of those concerns. Share any of yours in the comments!
Concern #1: Ohtani is an injury risk
Ohtani missed a large part of the 2017 season with an ankle injury and shortly after he signed with the Angels, news was leaked that he also had a grade one UCL sprain… something that rightfully put the fear of god into his fantasy owners. That's obviously not promising, and shortly after that news broke there were stories that said Ohtani had a 30% chance of Tommy John Surgery based on the precedent of players with similar injuries. Jon Roegele tweeted out data on players who received similar Platement-Rich-Plasma (PRP) injections and then went on to have Tommy John surgery: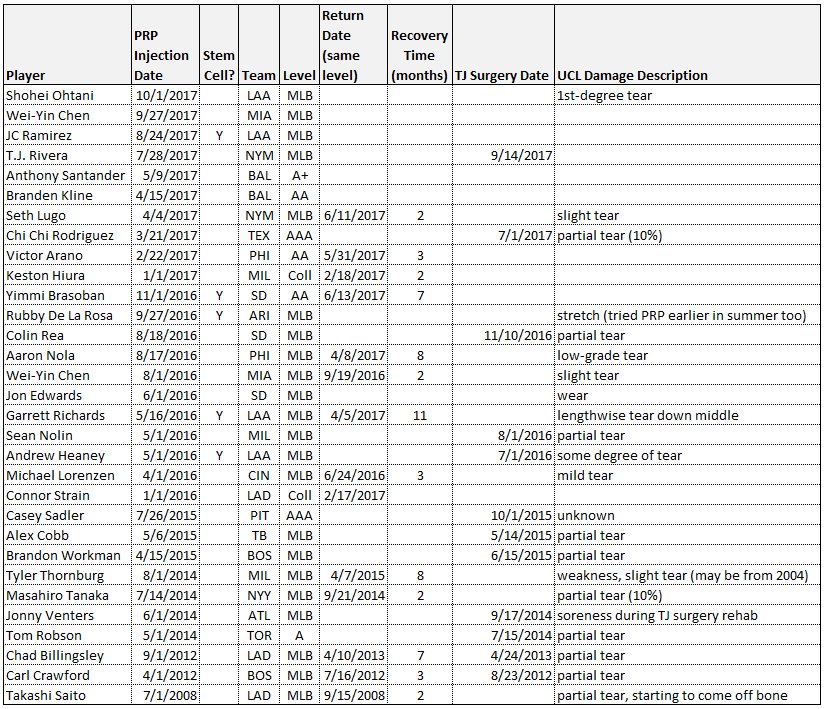 Again, not promising. Interestingly, the vast majority of the cases of pitchers who went on to have TJS had the surgery shortly after receiving the injection. There was barely any time for them to test the effectiveness of the treatment. Other than Chad Billingsley, Ohtani has already bested the timetable of injection-to-TJS, and he's now throwing in Spring Training at full strength. While he could go the way of Billingsley and have TJS in the future, there's evidence that he's about as out of the woods as a pitcher with this injury can possibly be.
With all that context, Ohtani does not seem to be a more significant injury risk than any other normal pitcher, so I have a hard time knocking down his value. The pitcher to me that seems most similar to Ohtani is Nola, who pitched through his elbow problems in 2016, had PRP in the offseason, and came back in 2017 as strong as ever.
The fact Ohtani is going to DH does increase his chances of being injured: he might get hit by a pitch, or pull a Jimmy Nelson/Chien-Ming Wang and hurt himself running the bases. However, isn't that risk mitigated by the fact he's going to be starting less? Does the increased chance of him getting hurt batting equal the minimized chances of being hurt by starting fewer games? I would argue so, speaking of which…
Concern #2: The Angels' six-man rotation limits his value
This is true…in roto leagues. For those of you in head to head, it's certainly annoying, but all you lose is the few times a year he starts twice. I don't know about you, but it always seemed to me my best starters never two-start when I need them to, so it's not much of a loss. There is a potential scenario where Ohtani starts on a Sunday, then the Angels play a 5 game week, and he misses that week. That's a possibility, but I can't imagine that happens more than once or twice in the next few years.
For you roto owners, yes, that's a bummer. It means Ohtani won't be as good as he potentially could be, but that doesn't mean he can't be an elite force for you. Last year, Clayton Kershaw was the fourth best starting pitcher in 174 innings, Stephen Strasburg ranked fifth at the same innings total, Robbie Ray clocked in at ninth with 160 frames, and in less than 155 innings  Alex Wood, Rich Hill, James Paxton, and Brad Peacock were top 20 starters.
So yes, it's annoying. Yes, Ohtani could be better if he was more likely to throw 200+ innings. But as those pitchers showed us last year, you don't need to be at that threshold to be an elite fantasy starter. All this limit does is limit his 90th percentile outcome… it really doesn't impact his 50th percentile or how good he'll be relative to the competition. Don't lose sight of that context in the midst of yearning for Ohtani to be more. In addition, the six-man rotation should ease his transition to the big leagues. On that note…
Concern #3: Adjusting to MLB
This one can't be dismissed until we actually see Ohtani pitch. That said, I'm not all that concerned. Ohtani is the most talented pitcher to come over from Japan, and most pitchers near his skill-level have adjusted well to the big leagues. Here's a list of starters that came over and how they have fared in MLB:
PLAYER
ERA FINAL 3
JAPAN YEARS
ERA U.S.
YEAR 1
Daisuke Matsuzaka
2.40
4.40
Hideki Irabu
2.68
7.09
Hideo Nomo
3.29
2.54
Hiroki Kuroda
2.86
3.73
Hisashi Iwakuma
2.87
3.16
Kazuhisa Ishii
3.48
4.27
Kei Igawa
3.50
6.25
Kenshin Kawakami
2.81
3.86
Kenta Maeda
2.26
3.48
Masahiro Tanaka
1.44
2.77
Masato Yoshii
4.73
3.93
Tsuyoshi Wada
2.63
3.25
Yu Darvish
1.64
3.90
Other than Kei Igawa and Hideki Irabu, everyone came over and pitched adequately or better. Daisuke will always be a disappointment to me as a Red Sox fan, but even he was decent. As a rookie, Ohtani isn't a slam dunk, but he's as close as we'll get from an international import.