Figuring out Zack Godley
Only Robbie Ray remains from a 2017 Arizona Diamondbacks rotation that had potential to be the best in the Major Leagues. Both Zack Greinke and Patrick Corbin are now dominating for other franchises, but Zack Godley has been unable to find the magic he harnessed during that year. Why is that?
Looking backward:
In a pre-humidor Chase Field, a 27-year-old Zack Godley broke out in a huge way in 2017, posting a 3.37 ERA, 3.21 FIP and a .8 HR/9 in a home stadium that many struggled to keep the ball inside.
Godley's breakout was heavily reliant on a dominant swing-and-miss curveball and a ground-ball-machine sinker. In 2017, that sinker induced a 64% groundball rate, the 19th highest GB% on a sinker in the MLB that year. His curveball was even deadlier, inducing a swing-and-miss on 45.63% of all pitches, the 7th best curveball whiff rate  in the league. These two pitches made up 67.8% of Godley's offerings in 2017, with a cutter and change-up rounding out the repertoire.
The product of Godley's repertoire was generating slightly more swings outside the zone than average (33.1%, 30% is average) but significantly less contact on these out-of-zone pitches (46.6%, 66% is average). Likely, with Godley's pitch combination unfamiliar to batters, they were susceptible to chasing his curveball out of the zone, a trend that has not kept up, as Godley's out-of-zone contact-rate now sits at a much more pedestrian 61.3%.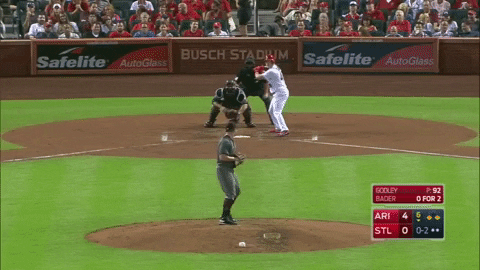 Despite owning one of 2017's best swing-and-miss curveballs and groundball inducing sinkers, Godley has lost the tools, and subsequently the results, that once brought him success.
Looking forward:
At the surface, Zack Godley's main issue seems to be his walk rate. For a pitcher who tops out at just over 90 MPH, control is a must-have. After 2017, Godley has failed to induce swings on his out-of-zone pitches, and his walk rate has skyrocketed. However, Godley's issues go further than inability to prevent free bases, as his once deadly sinker/curveball combo is losing its effect.
Godley simply does not have the velocity to beat batters high in the zone, so he is forced to live in the lower third of the strike zone. His inability to change the eye level of batters and give different looks has prevented him from going deep into games, which plays out in his times through the order splits.
Pitching to some of the best framing catchers in baseball (Jeff Mathis, Carson Kelly) has given Godley some room to work with at the bottom of the zone, but since Godley began throwing his Curveball 10% more (at the expense of cutter usage) he has become largely a two-pitch pitcher. With both of these pitches targeting largely the bottom of the strike zone, Godley's current repertoire seems like it would play up far more as a reliever or opener.
If the Jays, or any future Godley-owner, wish to use the former-Diamondback as a starting pitcher, he will need to re-find one of his pitches: the sinker.
Zack Godley has lost control of his sinker. The vertical movement Godley generates from his sinker has stayed largely the same, but his inability to locate the pitch has taken away most of its effectiveness. After generating 64% groundballs on his sinker in 2017, Godley's groundball-rate off of the pitch sits at just 52% in 2019. The slugging-percentage off of the pitch has risen over .100 points from 2017 to 2019. His second most used pitch has become his least effective weapon.
After a breakout in 2017, Godley seemed like he could, alongside Robbie Ray, Zack Greinke, and Patrick Corbin, be a stalwart within one of the league's best rotations. A combination of hitters laying off of his go-to curveball, and loss of location in his sinker, has seen a once clear future muddied. If Zack Godley begins to locate his sinker, he could take steps towards re-finding his 2017 form, otherwise, his sinker/slider combination may find themselves fighting for a bullpen job where pitchers who throw under 95 MPH, like Godley, often face an uphill battle for a role.