Avoid Future Disaster: Jeren Kendall
I'm fortunate enough to get to watch hours of baseball a day, and in that time I get to see many MLB, minor league, and division 1 college baseball players. There is one player who has gained quite a bit a steam for this upcoming draft in both the real and fantasy baseball world, and he is Vanderbilt's centerfielder, Jeren Kendall. Typically you'll notice that my reports are pretty far on one side or the other with players, and with Kendall I'm among his doubters.
Jeren Kendall stands 6'0 and is listed at 190lbs. In that body is a no doubt, slam dunk, top tier athlete. He has the long legged, broad shouldered muscular upper body that scouts fawn over. Most would believe that a sentence like that would bode well for him, and potentially lead to future stardom in the game, but let's slow down and look at the attributes and see why the sum of his parts is worth more than the actual whole.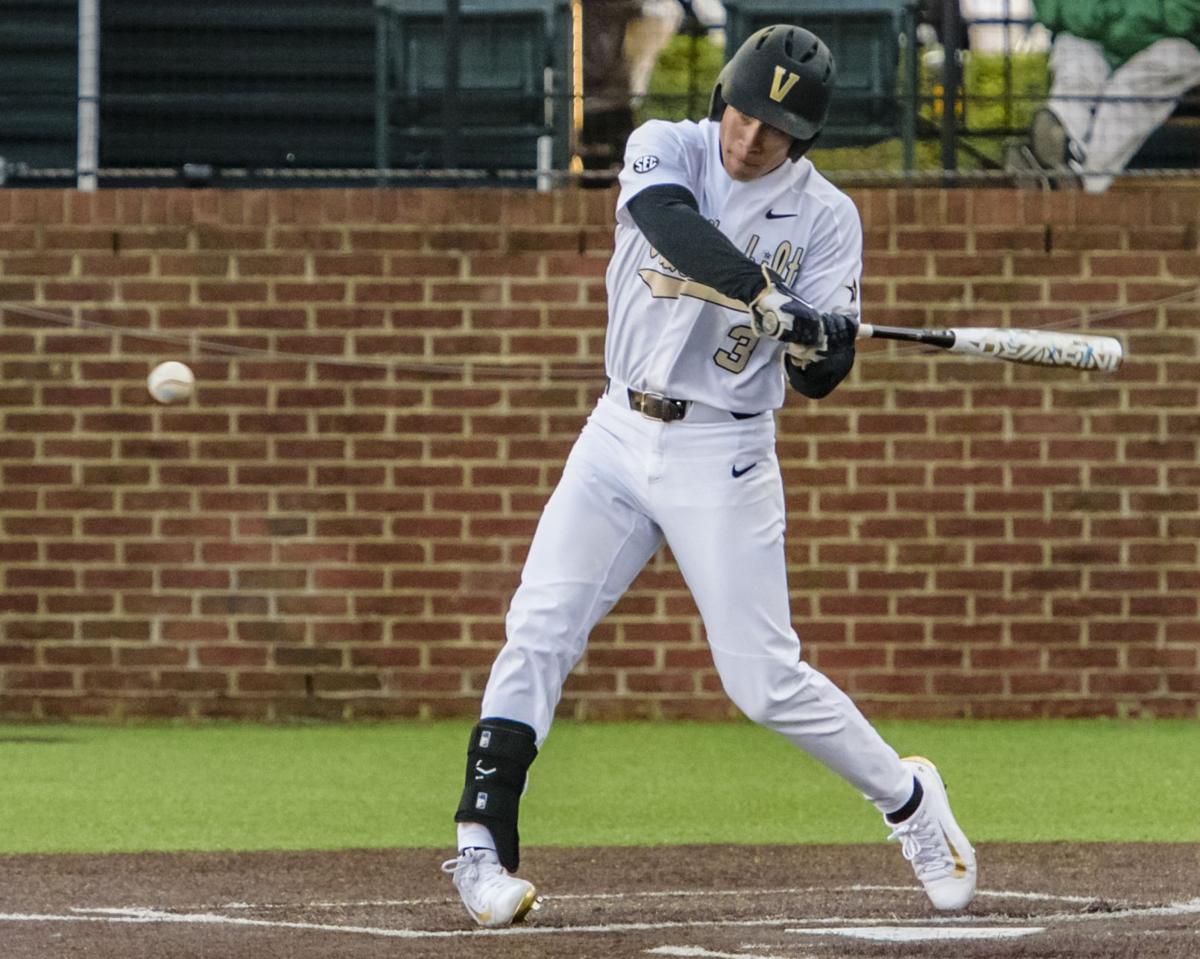 Courtesy of La Crosse Tribune
Beyond Kendall being a player whom scouts like as soon as they see him walk off the bus, he has plenty of other abilities he can flaunt. He has at least plus speed, and he gets good jumps on his steal attempts that I have observed. In the field, he can run down plenty of balls hit all over the yard, and despite presently average routes, he still has a plus defensive future ahead of him with all the ground he can cover. The man is a gazelle in the outfield. With that he pairs an above average arm, only adding to his defensive prowess. His glove alone adds to the safety of drafting Kendall since all the pressure on him to be promoted is going to be purely based around his bat.
Courtesy of Lobsang Domla on YouTube
Believe me, while not being of the same stature as most power hitters in the MLB there is thunder in his bat. He has obvious bat speed, coming from his sinewy build, and when he connects he is fully capable of sending rockets from the left center field gap to the right field line. For all intents and purposes he is what you want a ball player to look like.
Courtesy of The Prospect Pipeline on YouTube
But as I warned in the beginning, and quite the opposite of what Dennis Green thinks, he is not what we thought he was. Jeren Kendall will not hit well in the MLB, and this is a combination of mechanics which you would think could be altered, and natural ability, which is what it is. Presently Kendall features an upright swing, with a small stride and little lower body involvement. He has below average hip rotation and quick shoulder rotation, which leads to a quick bat path to the ball, and a slight uppercut swing. Slightly off topic but if you know anything about weight lifting, or can even envision a person performing any heavy lift, you'd recognize that something bad would be to have "energy leaks" in the movement. Basically these are points in a movement where energy is not used efficiently, or is being wasted on either 1) overcoming a weakness/vulnerability/injury or 2) just flat out wasted energy with your body performing the movement with poor mechanics. For example, I'll show you two images of a swing where as little energy is wasted as possible.
courtesy of Yahoo Sports
courtesy of the Washington Post
The first player is some fat guy who hit a bunch of homers, and the second is a young guy whom people hate that hits a bunch of homers. The way they derive so much power is that they clearly deliver the energy created in the motion of their swing through the baseball. At the point of contact in both of these images, their back foot is lifted off the ground. This is due to them having a significant amount of effort put into gearing up in the swing, delivering a long swing plane through the zone, and having their front foot planted so firmly into the ground that all of their effort has no choice but to be driven through their bat head into the ball. It seems simple because it is, google Giancarlo Stanton swing, Albert Pujols swing, Miguel Cabrera swing, or Mike Trout swing, and at the point of contact you will see 4 players who are firmly planted with their front foot, while having little to no weight on the back foot. While it may seem like they are transferring energy into their front foot, they're attempting to deliver as much of their energy as possible into the ball. Here is a weekend's worth of swings Kendall takes against the University of Kentucky.
Courtesy of 20/80 Baseball on YouTube
If you watched the whole video you got to see a slow motion swing at the end, and a home run he hit. In both of those he completely lacks the plant I described. Now, him still hitting a home run despite my concern with his footwork alone shows how athletic he is. But it's the first and biggest problem he has.
Traveling up his body, you then look at his hips. The way they rotate in his swing is more or less gentle. This is no compliment seeing as it is just another instance of him not putting his body into his swing. But at the top as said before his shoulder swap spots in his swing very quickly. The problem with this is that his swing is generating a lot of force, but it is rotational at the top, this creates a swing where his potential contact points are limited due to his bat's brief time in the hitting zone.
Courtesy of MaxPreps on Pinterest
Now take notice of where the above good hitter is making contact. He is catching the ball almost even with his body. Allowing the ball to travel further, and giving him more time to react to the ball in its flight. On the Kendall side of things..
Courtesy of College Baseball Central
Courtesy of the Crawfish Boxes
I don't even know what to call that first swing, but the fact that he can make contact that far in front of himself only can attest to his athleticism. The second picture gives you a good idea of how Kendall is catching the ball far before his body. This may sound simple, but the further you hit the ball in front of your body, the shorter that ball has to travel from the pitcher to get past your contact point. This means Kendall is giving himself less time to watch the ball fly before he has to make a decision to hit the ball (bad).  So he has a small hitting zone, the zone is in a portion of his swing that is more difficult to make contact in than it has to be, and as he rises in his professional career higher velocity, better differentiation between a pitchers pitches will only cause his difficult approach to become more difficult to execute.
Which leads me to a simple breakdown of his actual results. (stats as of 5/22/2017)
| | | | | | | | | | | | | | | | | | | | |
| --- | --- | --- | --- | --- | --- | --- | --- | --- | --- | --- | --- | --- | --- | --- | --- | --- | --- | --- | --- |
| Season | avg  | gp-gs  | ab  | r  | h  | 2b  | 3b  | hr  | rbi  | tb  | slg%  | bb  | hbp  | so  | gdp  | ob%  | sf  | sh  | sb-att  |
| 2017 | .313 | 55-55 | 230 | 56 | 72 | 7 | 5 | 15 | 44 | 134 | .583 | 24 | 5 | 65 | 1 | .387 | 2 | 2 | 18-22 |
| 2016 | 0.332 | 62-62 | 250 | 63 | 83 | 16 | 8 | 9 | 59 | 142 | 0.568 | 25 | 4 | 62 | 1 | 0.396 | 4 | 5 | 28-36 |
Kendall has hit well, there is no denying that, which is why he is presently MLB.com's 6th ranked draft prospect, and is ranked in at least the top 20 in most other resources. But if deeper knowledge of his performance was available to the public this would likely slow down the Kendall hype train. He frequently catches balls out front and pounds them into the ground, normally this leads to a ton of ground outs, but Vanderbilt seems to have built a dynamo team around a field that appears to have concrete under the turf. He is consistently bouncing balls over infielders, and legging out singles because of the unusual nature of this field. Second, Kendall currently has over a 25% strikeout rate, something that likely will not improve much as the pitching gets better in the pros. His 8% walk rate does not redeem his swing and miss tendencies. This gives him an SEC BB/K rate of .35, at the MLB level free swinging Khris Davis has a .35 rate…
In conclusion, as exciting as a guy is who can drop bombs, easily swipe bags, all the while staying in centerfield because of his stellar play sounds, the ability to hit is what it all comes down to in the end. There is significant evidence that he will have a hard time hitting enough to allow him to flaunt his talents at the pro level, and this is why as you do your own prep for your fantasy teams, or merely pay attention to your favorite team going forward, Jeren Kendall who has numerous first round abilities, does not belong in the first round of the MLB draft or your dynasty draft.